Edit or Delete A Post-em Note
You can edit or delete your Post-em Notes at any time, providing you know the location of your Post-em Note and your
password
.
You can retrieve a listing of your Post-em Notes and passwords in the WorldConnect Project (family trees) and the Social Security Death Index through Password Central. You will need to contact the HelpDesk for passwords to all others. The HelpDesk will need to know the name of the database or file you posted to, and the person your Post-em Note is attached to. This information is between the two lines at the top of your Post-em Note.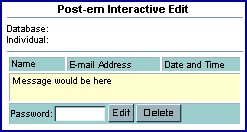 The edit option will give you the same Post-em Interactive Edit Form you originally used to add your note. You will follow the same process you initially did when editing.
If you click on the delete button, your entry is immediately deleted. You will see a confirmation that it was deleted after clicking on the button.
Only you can delete your Post-em Note, with one exception. In the WorldConnect Project the person who submitted the family tree may delete your note from their file. They will use their own password, not yours, if they choose to delete it. They cannot edit your Post-em Note.