Adding a Post-em Note

A Post-em Note enables researchers to help fill in missing pieces of existing files. It is the electronic equivalent of a sticky note, and is offered as a free benefit to all researchers.
The Post-em Interactive Edit Form is used to add new Post-em Notes, or edit existing ones.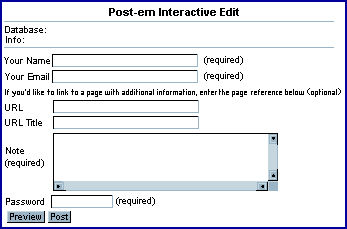 Fields on Post-em Interactive Edit form
Database/Application | Info/Key/Individual | Your Name | Your Email | URL | URL Title | Note | Password | Preview button | Post button
The first two fields (those at the top of the form, between the horizontal lines) will be filled in. They identify the location of the Post-em Note. The remaining fields are completed by you.

Database
(may see other labels, such as Application)
The first line identifies the name of the database or file. If you add a Post-em Note to the WorldConnect Project, this line will be the name of a family tree file. If you are adding a note to the Social Security Death Index (SSDI), or another database, you will generally see the name of that database.

Info
(may see other labels, such as Key or Individual)
The second line in the heading identifies a specific place within the file. In the WorldConnect Project the identification number of the individual will be shown (Individual: I00216, for example); in the Social Security Death Index it will show their Social Security Number; other files will give you the key information for the person you are attaching the note to.

Your Name (required)
You must fill in this blank. It can be your full name, just your given name, or a nickname.

Your E-mail (required)
This should be your full e-mail address. Some mail programs allow you to use just the first part of your address, however other users will not be able to contact you if you do that here.Only one address should be entered in this field. If you have an alternate address, please include it within the note portion of this form.

URL and URL Title (optional)
If you would like to add a link to your homepage, photograph, or another Web site, you can do so by completing these fields. The URL (address) must be complete for it to be a working link. The full address will start http:// for most people. If you don't have a homepage, but would like to create one, you may request an account at http://accounts.rootsweb.com/

Note (required)
This is the message area. You can enter corrections, additions, or other information that would be helpful to other researchers viewing the file.

Password (required)
You determine your own password. It can be anything you wish, up to sixteen (16) characters. The password is used to ensure only you edit or delete your Post-em Note. There is one exception. In the WorldConnect Project the person who submitted the family tree may remove your Post-em Note if they wish, as they own the file you are attaching the note to. They will use their own password, not yours, if they choose to delete it. They are not able to edit your Post-em Note.

Preview and Post buttons
After completing the form you may choose to preview it, which allows you to edit it prior to having it appear on the Internet. The "Post" button completes the transaction and adds your note to the file. You will see a new screen showing your post after you have finished.